Mission & Outreach
HUMC's membership is mindful of its heritage and mission: to spread the word of the Gospel, and to support local, community and world-wide organizations that minister to the underserved and underprivileged.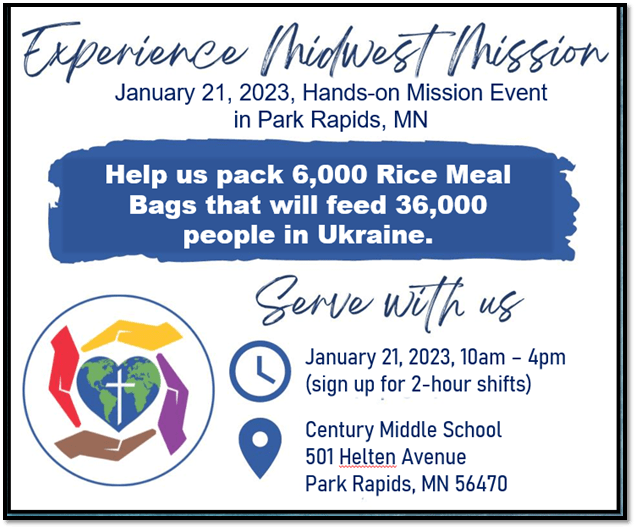 Join us on Saturday, January 21, 2023 between 10am and 4pm at Century Middle School in Park Rapids as we come together as a community to pack 36,000 meals for Ukraine.
This is a great opportunity for youth (12 and Older), families, mission teams, and individuals to bless others!
Please review the available 2-hour time slots below and click on the corresponding button to sign up.
Come a bit early to check in and get oriented, and sign up from 1-3 shifts!
Thank you, and HAVE FUN!
Local Mission and Outreach
HUMC works in collaboration with other churches, organizations and groups to help and initiate new ways to meet the needs of the community it serves. As part of this network, the church supports programs such as the food pantry, Hospice, outreach to the elderly and homebound, providing school supplies and clothing for children in need, community meals and fundraisers, to name just a few.
World-Wide Mission and Outreach
Wellspring For The World
Wellspring for the World is a 501(c)3 organization that is dedicated to provide clean safe water for people who lack access to clean water. Every day, nearly 1,000 children under 5 die from unsafe water, inadequate sanitation, and poor hygiene. In Africa alone, women and children spend 200 million hours every day gathering water.
HUMC partners with Wellspring for the World and their partner, World Vision, in raising capitol, creating awareness, and helping children, families and their communities worldwide to reach their full potential by tackling the causes of poverty and injustice. To learn more about Wellspring for the World, visit www.wellspringfortheworld.org.
United Methodist Committee on Relief (UMCOR)
UMCOR is a non-profit 501(c)3 organization dedicated to alleviating human suffering around the globe. UMCOR's work includes programs and projects in disaster response, health, sustainable agriculture, food security, relief supplies, and more. UMCOR is a ministry of The United Methodist Church through the General Board of Global Ministries.
Hubbard Church supports UMCOR through various project (health kits, flood buckets) as needed by the organization. To learn more about UMCOR, visit www.umcor.org.